In celebration of the 125th Anniversary of the Consulate-General of Japan in Vancouver, the Consulate and Hitomi Harama of the Toho Network presented a unique concert of traditional and innovative Japanese Noh dance and music on February 27, 2015 in Victoria, British Columbia, Canada. Performing to a full house at the Gérald-Henriette Moreau Theatre in the École Victor-Brodeur, internationally acclaimed Noh actor YAMAI Tsunao and renowned jazz pianist KIHARA Kentaro shared a passionate performance with their audience.
Also featuring other professional Noh actors and a complete ensemble of Noh musicians, this innovative collaboration between Tsunao and Kentaro was a shining example of Arts & Culture at its finest in British Columbia's capital.
The evening of traditional Noh chant and dance in collaboration with contemporary jazz piano was aptly titled Continuity & Connection. In a dream-like story, a woman appears as a symbol of loneliness showing that no one can live without human connections. A fan placed in front of the stage symbolizes this connection between us all.
Over 1400 years ago, the Komparu School of Noh theatre existed in the ancient Japanese capital of Nara. Performed as a ritual to bring peace and happiness, Noh performances consist of Okina: chanted sections; Takasago: dance with instrumental music; Banshikigaku: music in the banshiki mode; and Hagoromo (The Feathered Robe): dance with instrumental music.
This one-time only performance in Victoria was not to be missed! This was a rare opportunity to experience such a unique blending of Japanese traditional performing arts with the sound of modern jazz piano, especially outside of Japan.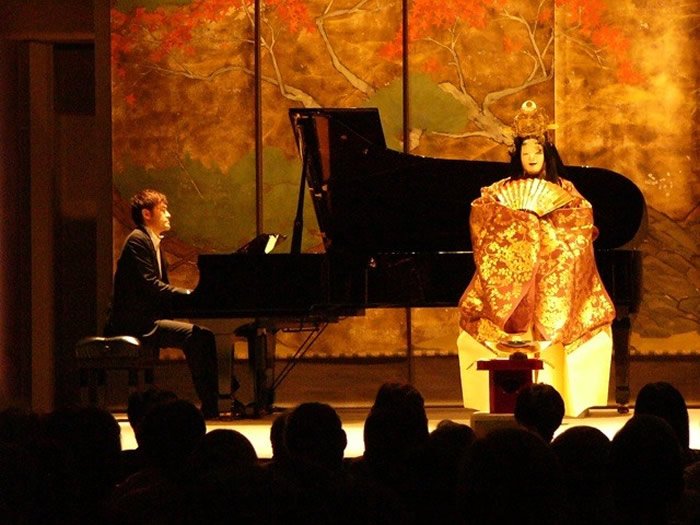 "For this occasion, we have added Western music of piano to authentic expressions of Noh. I hope it reaches out directly to your souls. The title is a reminder that everything in our world is connected: linking Japan and other nations; this world and other worlds; individuals and individuals; hearts and minds. This performance tries to act as the "connector" for everything. I hope this show clears your mind and encourages you to have positive thoughts about the future." —YAMAI Tsunao, 2014 Cultural Envoy of Japan (appointed by the Agency for Cultural Affairs)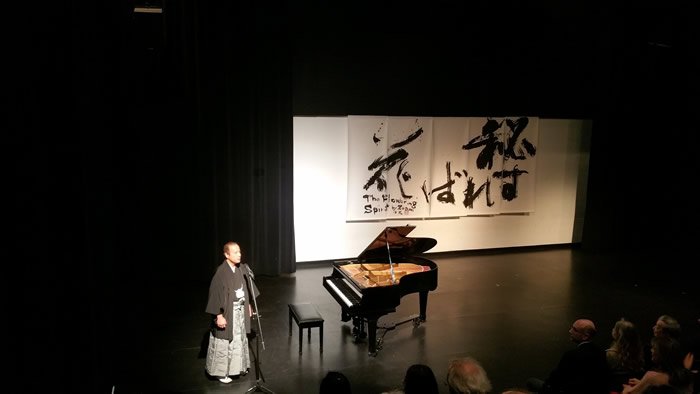 "It is my great pleasure to welcome back Mr. Tsunao Yamai and the actors from Komparu School to Victoria and Vancouver. This time, coinciding with the golden jubilee of sister-city relations between Yokohama and Vancouver, Kushiro and Burnaby, and the thirtieth anniversary of sister-city between Morioka and Victoria. Thank you to the artists, our partner, and the sponsors for making this concert possible and for working with us to further the amicable ties between Japan and Canada by way of supporting Japanese culture abroad." —Seiji Okada, Consul General of Japan in Vancouver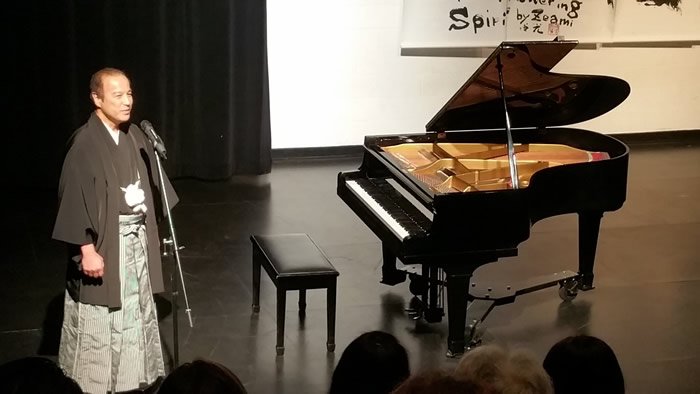 Special thanks were also sent out to the Conseil Scolaire Francophone de la Colombie-Britannique #93 and École Victor-Brodeur for providing the performance venue for this concert, and all of the community support, including Victoria Nikkei Cultural Society and Victoria Japanese Friendship Society.
The 2015 tour continues to Vancouver tomorrow night, and performances will also include stops in Paris, New York and Los Angeles.
Pictured above:
Hitomi Harama welcomes everyone to the Continuity & Connection event.
Internationally acclaimed Noh actor YAMAI Tsunao.
Renowned jazz pianist KIHARA Kentaro and Noh actor YAMAI Tsunao.
Seiji Okada, Consul General of Japan in Vancouver, brings special greetings to the audience and introduces the performers.