There is no better way to experience British Columbia's remote wilderness than exploring all it has to offer on a kayaking and camping adventure. From abundant wildlife to the beauty of an outdoors teeming with mountains, oceans and ancient forests, check out Wildcoast Adventures specially designed trips if you want to take it all in.
Start Your Journey at a Boutique Wilderness Resort
All trips begin on Quadra Island, where guests can spend their first night at magical Gowlland Harbour Resort. Located in a beautiful secluded cove, the resort provides a great launching point from which to further explore the region. Featured for its outstanding cuisine in "National Geographic Travel's '50 Places of a Lifetime: Canada" this secluded Discovery Islands boutique resort is a hidden paradise on the West Coast of Canada.
Kayak British Columbia's Spectacular Coastline
From the towering mountains and calm waters of Desolation Sound to the abundant channels, bays, coves, and inlets of the Discovery Islands, the kayaking in and around Quadra Island – located four hours north of Vancouver – will have you paddling through marine parks and secret bays. The area has much to offer, including hikes through the forest to hidden lakes where you can relax and swim.
Two more hours farther up the coast from Quadra Island, the kayaking in Johnstone Strait will surround you with remoteness and tree-lined shores; breathtaking for both beginner and experienced kayakers.
Camping or Glamping – it's your choice!
Glamping (glamorous camping) – spending time in the wilderness doesn't mean you have to sleep on the ground or eat freeze-dried meals. At Wildcoast Orca Camp in Johnstone Strait, guests enjoy the comfort of safari tents with raised cots, thick thermarests and toasty sleeping bags. After a good night's sleep you will be eager to head out on your kayak each day in search of the region's abundant wildlife.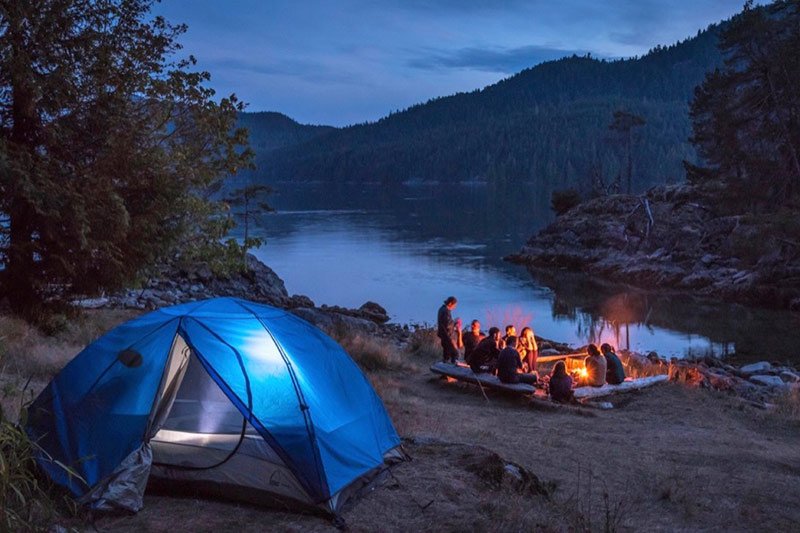 Camping – during kayak trips to Desolation Sound and the Discovery Islands, expedition tents are set up each night under the ancient cedars and star-filled skies. Evenings are topped off with a warm and inviting campfire – a great way to end the day before heading off for a peaceful sleep.
Abundant Wildlife
Johnstone Strait is Killer Whale Territory! Kayakers heading up to Orca Camp are in the prime location to seek out orca, humpback whales, white-sided dolphins, and sea lions. Kayak expeditions to the Discovery Islands and Desolation Sound are bound to encounter porpoises and seals, plus teeming intertidal life that all lives in this region.
Food, Glorious Food
No trip is complete without a delicious menu. Each trip's scrumptious meals are developed and provided by Gowlland Harbour's gourmet chef. Fresh hot meals feature local fare and are prepared each day by your skilled guides. With a full belly, you will sleep peacefully each night with renewed energy for your next day's adventures.
Expert Guides and Fabulous Guests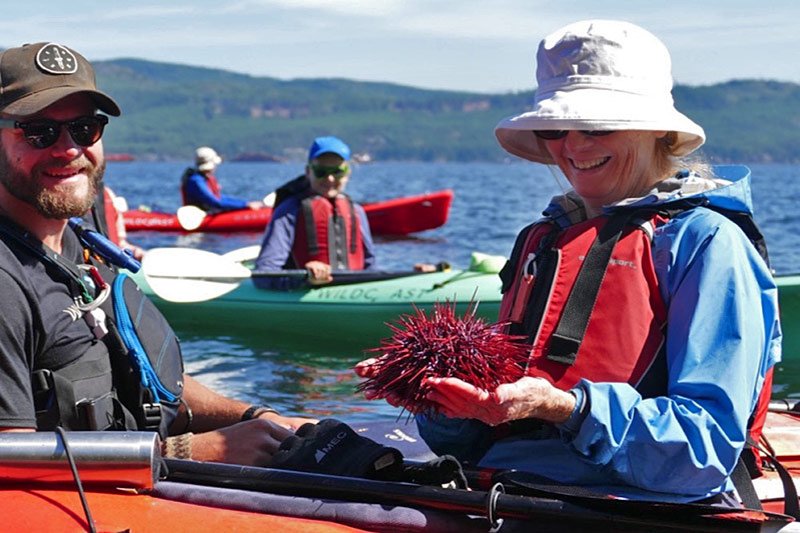 No great trip happens without awesome guests like you, and our passionate guides who go the extra mile to deliver an outstanding experience. Every guide is a skilled, well-educated, dedicated professional outdoor leader who holds certificates in Wilderness First Aid. As kayaking is the primary activity in these adventures, guides tailor all paddling excursions to the group's ability, dynamic, and weather conditions.
Kayaking, camping and glamping in the remoteness of Canada's wild west coast is an experience not to be missed. And there is no better time than now to book your adventure!
Wildcoast Adventure trips are available from June through September.
Wildcoast Adventures
P.O. Box 461
Quathiaski Cove
Quadra Island, BC
V0P 1N0
Phone: 250-285-9453
Toll Free: 1-855-485-9453
Email: hello@wildcoastadventures.com
Website: www.kayakbritishcolumbia.com