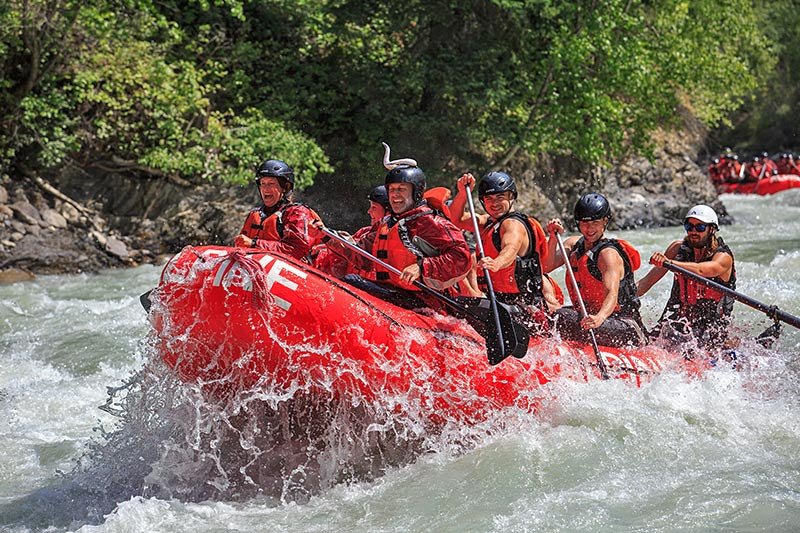 Rafting and Camping along the Kicking Horse River in Golden, British Columbia go hand in hand during the summer months. Thousands of rafters flock to the Kicking Horse River for Western Canada's biggest whitewater. Designated as BC's First Heritage River, the Kicking Horse River is an adventure not to be missed.
The Kicking Horse River boasts something for everyone, from family floats in majestic Yoho National Park to running the glacier-fed whitewater rapids of the Lower Canyon for the experienced adrenaline junkie. Equally popular is camping along the pristine Kicking Horse River; a primitive and unique camping experience sure to provide memories for a lifetime. Alpine Rafting is the only operator on the Kicking horse River to offer free camping all summer long.
You will quickly find yourself at home along the banks of the Kicking Horse River. The rustic campground is located just a few kilometres off the beaten track – also known as the Trans-Canada Highway – and only 15 minutes east of the community of Golden. There are two distinct areas to camp: below on the gravel flats or up in the treed area. Both offer their own unique advantages.
Known as the Beaverfoot Valley, this area is steeped in history, being the location where James Hector led the famed Palliser expedition, and just downstream from the campground is where Hector was kicked in the head and left for dead.
Sweeping views from the campground take in Mount Chancellor to the east – a stunning peak in Yoho National Park to enjoy during your morning coffee and evening drinks – and to the north are the waterfalls of Mount Chancellor.
Join Alpine Rafting on the Kicking Horse River this summer! The Kicking Horse is renowned as the Whitewater Gem of the Canadian Rockies, boasting BC and Alberta's Biggest Whitewater Thrills. 2015 marks Alpine Rafting's 31st season on the Kicking Horse River. They are a committed team who consistently give their guests 5-star adventures. From their fleet of eye-popping candy red rafts to their trip selection, they've spent the last 30+ years honing the experience they provide.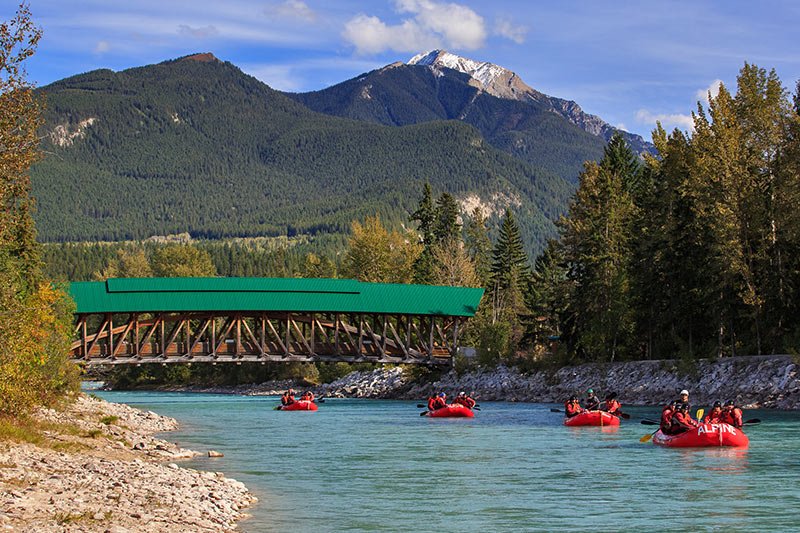 THE GOOD: There is no need to follow the liquor bans outlined on the Parks Canada website. This campsite is set up for maximum fun and enjoyment. There are no rules (other than not cutting down live trees). There is cell service! This campsite is free for all those whitewater rafting the Kicking Horse River with Alpine Rafting.
THE BAD: The CP Rail transcontinental rail line weaves its way west towards Vancouver just a few kilometres from the campsite. If you're a light sleeper, they might wake you.
THE UGLY: Bears. Keep your coolers in your RV, Camper or in your vehicle. No food in your tent! The area is primitive, and is best suited to experienced campers.
Alpine Rafting
101 Golden Donald Upper Road
Golden, BC
V0A 1H0
Website: www.alpinerafting.com