A few years ago boat designer Harold Aune, co-founder of Whitehall Rowing and Sail, and builder of the world's best all water rowing boats since 1987, noticed the incredible number of standup paddle boards people were using to get out on the water and have fun paddling around. He wondered if there was a way to somehow convert these relatively stable boards into a sculling rowboat. After thinking about how this could be done, an idea finally came to him. With the help of his talented crew he designed and developed a cool new rowing unit that quickly and easily converts a standup paddle board into a rowing boat. It is called the Oar Board®.
Unlike the long, skinny and very tippy boats used by competitive rowers, the Oar Board® features a fixed seat combined with a sliding carriage that your feet are strapped to.
"I love my Oar Board! It's fun, it's fast and I get a super workout."
–Adam Kreek, Olympian, Gold Medal Winner
Rowing with an Oar Board® is similar to rowing a stationary rowing machine at the gym except each hand holds an ultra light carbon fiber oar handle while you push with both legs. The power of both of your legs is transferred to the oar blades that grip the water. The oars work as giant levers moving the paddle board quickly and efficiently.
The Oar Board® rowing unit fits onto any standup paddle board, also called an SUP. It instantly converts it into a smooth, fast and stable sculling boat that keeps a person fit and relaxed. It's stable enough for novices and responsive enough for accomplished rowers to enjoy. Olympic Gold medal winner Adam Kreek says, "I love my Oar Board®! It's fun, it's fast and I get a super workout."
Rowing an Oar Board® offers double the calorie burn of jogging, with no stress on the knees so it's perfect for cross-training or even serving as a complete exercise program.
People love that it's stable, safe and easy to learn to row, plus it's a lot of fun. On the Oar Board® website, and the Facebook page, comments like these are common:
"The Oar Board® is absolutely amazing. Love love love it! I can be back doing the sport I love and rowing wherever and whenever I want with the Oar Board®. The design is so simple and easy to set up and use, plus it's great for storage."
"Just tried the Oar Board® for the first time. If I closed my eyes, I could not tell that I was not in a rowing shell."
"I have been out in 10 knot winds and in Bay chop. No issues. No instability (unlike a regular scull)."
Diana Lesieur, sales manager for the Oar Board®, noticed two things right away. The first was that the traditional sculling oar was very difficult and expensive to ship and transport. With the help of a major carbon fiber oar manufacturer she developed the world's first two piece sculling oars. Now at just over half as long as sculling oars when taken apart, they will easily fit into the trunk of a car or into the special Oar Board® travel bag that can also be used when flying off for a holiday to some exotic rowing or paddling spot.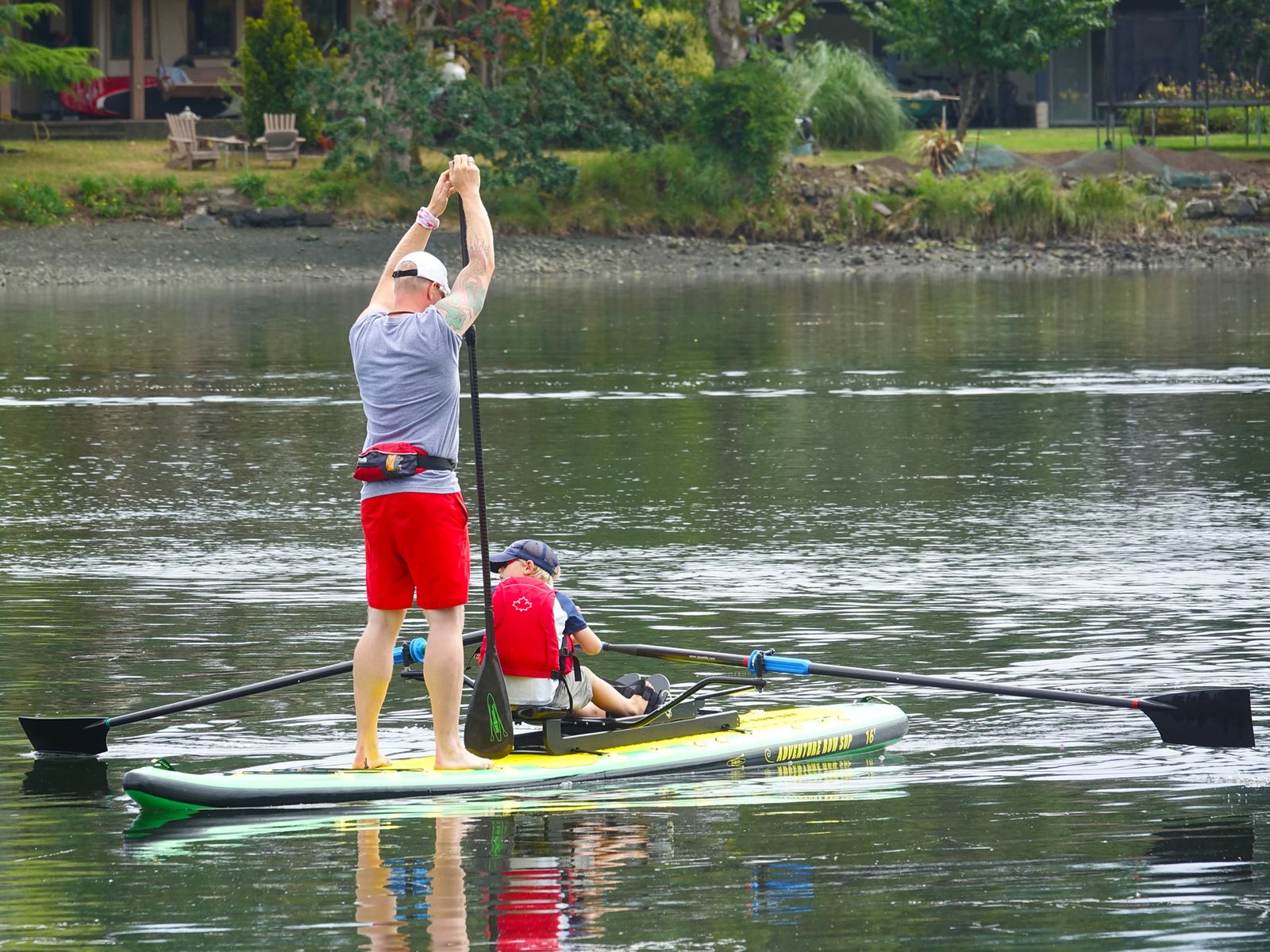 The second observation was that many of her buyers were also purchasing an SUP as well, just to go with their Oar Board® and sculling oars. So Harold designed a line of paddle boards especially for paddling as a regular SUP, or for rowing with the Oar Board®. He also knew how much tougher inflatable SUPs were, compared the hard fiberglass boards. Combining that, with the fact they can be deflated and fit in a regular sized backpack, the new SUP line Harold and his company produced are inflatables.
There are three models now available on the website. The Fitness Row 12 SUP, the Adventure Row 13.4 SUP, and the Adventure Row 16 SUP. The latter is long enough to be fitted with two Oar Board® units so it can be rowed as a double. The company now offers one-stop online shopping for 'Combo Packs' complete with all the required gear: rowing unit, SUP with pumps and carry packs, sculling oars and even standup paddles.
Whitehall Rowing & Sail has shipped standup paddle boards, rowing units, boats, and accessories worldwide for over thirty years, and they report that the Oar Board® Rower is now enjoyed by happy owners in over 40 countries.
About Whitehall Rowing & Sail
"Each and every time we head out on the water the rest of the world seems to melt away." –Harold Aune and Marie Hutchinson, Co-Owners/Co-Founders, Whitehall Rowing & Sail
Gliding on the water and achieving that deeper sense of being gives us the feeling of true freedom that brings us back time after time. Whether it's a flat calm morning with the sunlight glinting off the water or stroking through waves and the pull of the tide we feel a deep appreciation for the gift of freedom to go wherever the seas, rivers or lakes allow. At Whitehall Rowing & Sail we are known worldwide for our creative all-water boat designs, continuous innovation, our expertise, and a desire to keep you on the water living life to the fullest. Our rich deep history of creating the world's finest all-water rowing craft and extraordinary attention detail is fueled by our passion to do what we love. We design and build every one of our products so that you can be elevated by your rowing experience out on the water each and every time.
For more information contact:
Diana Lesieur
Sales Manager
Oar Board®
A Division of Whitehall Rowing and Sail
Phone 1-250-384-6574
Toll Free 1-800-663-7481
International 00+1-250-361-2621
Email sales@OarBoard.com
oarboard.com/oar-board-sup-combo-packages
oarboard.com/buy-now
oarboard.com/about-us
oarboard.com/contact-us