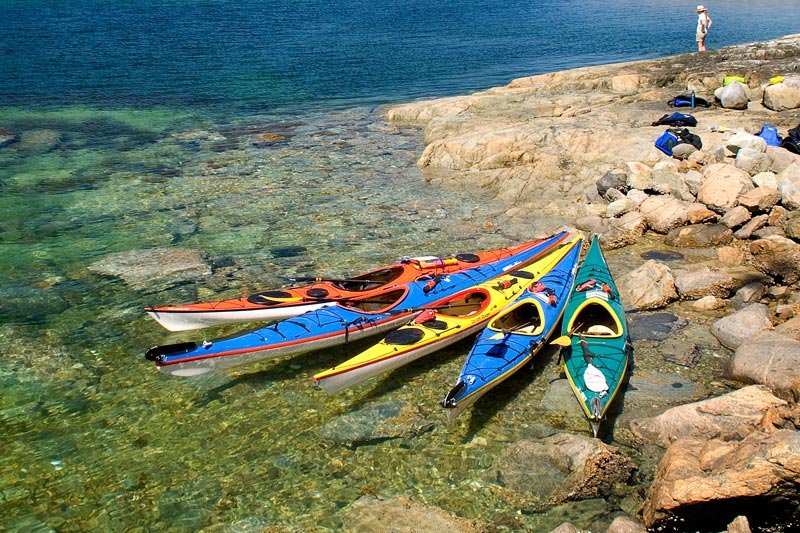 Warm Pacific waters, prolific marine wildlife, towering Coast Mountains and idyllic islands make Desolation Sound the perfect destination for a sea kayaking vacation. Located adjacent to Desolation Sound Marine Park in British Columbia and with over 20 years experience, Powell River Sea Kayak's specialty is Desolation Sound Marine Park.
In Desolation, visitors can access trails to panoramic views or hike to hidden lakes for a refreshing swim. Find the perfect tenting spot on one of the many islands and take in the rich sunsets over Vancouver Island. Swim and snorkel in Desolation's unusually warm waters and enjoy sea kayaking along the endless and varied shorelines of Desolation Sound.
Guests can experience Desolation on one of Powell River Sea Kayak's multi-day camping tours, ranging from the popular 4 and 5 day trips to the 10 day Epic Adventure. For those seeking a more comfortable option, Cabana Desolation Eco Resort is located on an uninhabited island in the heart of Desolation Sound and provides all-inclusive packages. Daily tours include Savary Island, the Copeland Islands Marine Park and Desolation Sound Marine Park. Try the Combo Kayak and Snorkel tour for a truly unique experience or rent kayaks and explore on your own.
Want to find out more? Feel free to give Powell River Sea Kayak a toll-free call, or send them an email. Ask to speak directly with company owner Adam Vallance, or any member of their team. They will be happy to answer any questions you may have.
Chill and immerse in Desolation Sound!
Powell River Sea Kayak
10676 Crowther Road
Powell River, BC V8A 0G4
Phone 604-483-2160
Toll Free 1-866-617-4444
Email info@bcseakayak.com
Website www.bcseakayak.com
See Premier Listing for Sea Kayak in Desolation Sound.
More on Kayaking in British Columbia.
More on Desolation Sound, British Columbia.
More on Powell River, British Columbia.