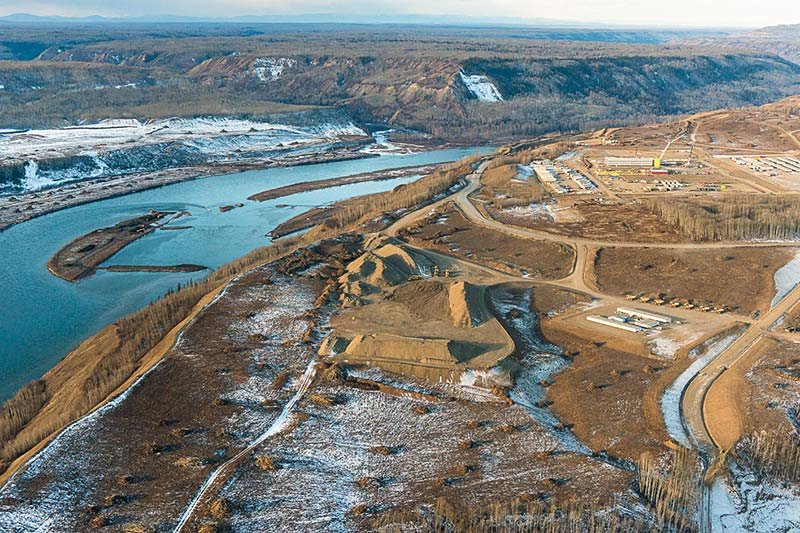 From a lookout high atop a windswept bluff, the scale of work already underway at the site of a third mega-dam across the Peace River is daunting. Large tracts of boreal forest are logged. Vast amounts of topsoil are stripped away for what could one day be a trailer city housing hundreds of workers. Gravel from the fish-bearing river continues to be excavated to build a roadbed that will eat up a portion of the north riverbank. And more.
Despite all this activity, actual construction of the Site C dam itself is far off. Only a tiny fraction of the projected $9 billion in funds needed to build the single most expensive megaproject in B.C.'s history has been spent. There is still plenty of time to halt this project and have the public discussion we should have had a long time ago: Why this questionable project at this time?
Nothing underscores the importance of this conversation more than the simple fact that we don't need Site C's power. Nor will we for some time. BC Hydro itself has told the BC Utilities Commission (BCUC) that only by 2028 would our consumption exceed domestic production.
And that projection is based on outdated data. BC Hydro's most recent quarterly report notes that forecasted hydro sales to large industrial and commercial users are falling. Slumping commodity prices have delayed mining projects. Questions also hang over some B.C. pulp mills: big power users who, ironically, are threatened by rising hydro prices as well as by looming shortfalls of available timber.
In other words, it could be well beyond 2028 before B.C. energy consumption meets or exceeds current hydro production. And that assumes nothing changes in the interim. If we install droves of additional wind turbines and solar panels or we build new geothermal power plants (B.C. currently has none) the date gets pushed back further still.
So what's the rush? Why is our government pushing so hard for Site C? The answer lies in the theoretical emergence of a Liquefied Natural Gas industry in the province, a premise on which Premier Christy Clark has staked her political future. According to BC Hydro's filings with the BCUC, only with LNG plants coming online would our hydro consumption begin to outstrip domestic supply, and only then in about eight years.
Despite the fact that fossil fuel giants like Shell and Petronas haven't committed a cent to building LNG plants, the rush is on to supply them "clean" power to offset some of the emissions associated with producing fracked and potentially liquefied natural gas — which are among the dirtiest, most climate-unfriendly fossil fuels on earth.
Less known is that a related rush is also underway and linked to the Peace River's two existing hydroelectric dams. That is a move to electrify the field operations of the likes of Shell and Petronas. Already, one new major transmission line is nearing completion in the Dawson Creek/Chetwynd area. BC Hydro reports the cost of that line to ratepayers now stands at $301 million. The line was explicitly built to furnish Shell and other natural gas producers with hydroelectricity, which will allow the companies to burn less natural gas to power their operations. Yet all hydro users will pay for it.
Two other major transmission line extensions are also in the works. They would furnish Petronas and other corporations with hydroelectricity so that they can burn less gas. Energy Minister Bill Bennett recently said that the government wants both projects exempt from review by the watchdog BCUC, meaning that hydro ratepayers and taxpayers will never know whether the province's independent natural gas and electricity utility regulator considers either project to be justified. They will also never know what the regulator thinks of the proposed Site C dam, because the government has refused to submit that project to BCUC review as well.
All of this is exceedingly troubling from a public policy perspective, especially on the heels of the international climate change conference in Paris. During that conference, Premier Clark claimed that there is no "low hanging fruit" left in British Columbia as far as climate change fixes are concerned.
Really? How about saying no to an LNG industry that doesn't and may never exist. And no to an unnecessary dam that will destroy some of the best farmland on earth so that fossil fuel companies can heat up our fast-warming planet even more.
By Ben Parfitt
Ben Parfitt is a resource policy analyst with the Canadian Centre for Policy Alternatives.
Website: Canadian Centre for Policy Alternatives (CCPA)
Website: CCPA Policy Note: A progressive take on BC issues
Source Article: The Province, Vancouver, BC
Photo Credit: Garth Lenz
Photo of work being done in preparation for construction of the Site C dam.