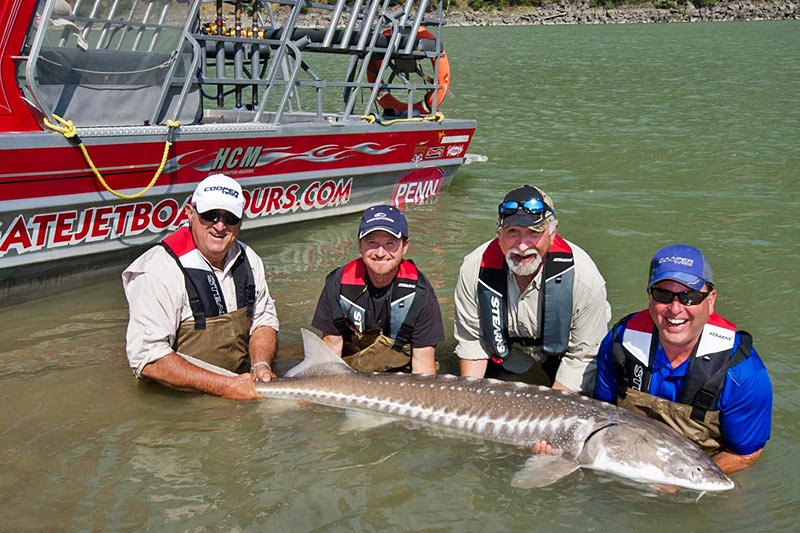 So far this season we have been experiencing some great salmon and sturgeon fishing. Last week we spent considerable time bar fishing for Harrison River and Fraser River run Chinook, as well as the last bit of Pink Salmon Fishing. Now that the pink salmon run is over, we are in a transition to Coho, Chum and Fall Chinook salmon.
Fraser River Sturgeon Fishing
The Fraser River has been fishing incredibly well for sturgeon. Many larger fish in the 7 to 9-ft range have been caught this season, as well as many fish from 4 to 7 feet. As long as we continue to handle these fish with extreme care, this fishery will only get better, and anglers will see some great catches like the one pictured above. Fishing has been slightly slower this last week than the weeks prior, but that is expected, as these fish need to digest all those Pink Salmon that were eaten over the past month. We are still catching large fish, but we just have to work a bit harder for them.
The first week to 10 days is a transitional period for both sturgeon and salmon. Sturgeon are now switching from Pink Salmon baits to Chum and Chinook, as these salmon are now entering the Fraser River. For most of September, our baits were large and bites were aggressive, but it is now time to scale down the size of baits to accommodate those fish that are full and are not looking to bulk up. It is also a good strategy to pay closer attention to the bites and be ready to strike the rod sooner, as these fish will not be as aggressive as they were a few weeks ago. This doesn't mean you won't get some of those crazily aggressive bites; there will just be fewer of them. The best baits for the next month will be Chum Salmon eggs, Chinook eggs and, of course, our favorite, stink bait (rotten salmon parts).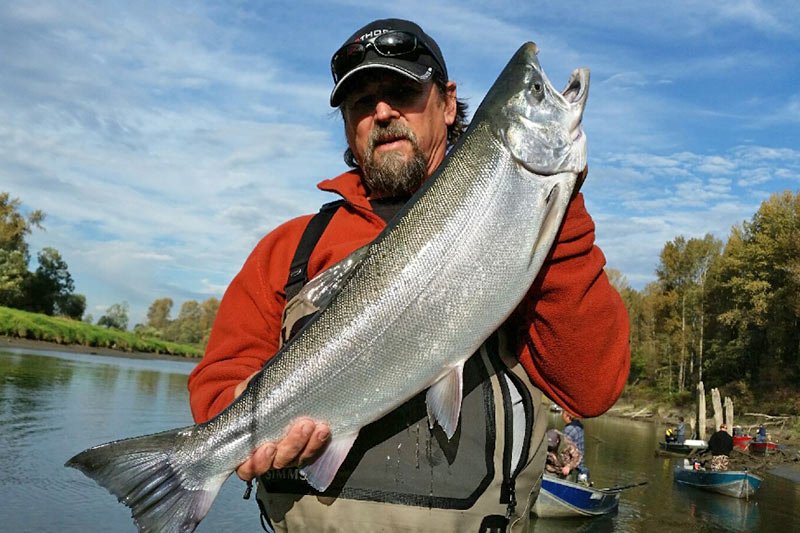 Fraser River Salmon
Salmon fishing on the Fraser River has slowed slightly from last week, but that will not last long. As mentioned above, we are in a transition from Pink salmon to Chum, Coho and late-run Chinook salmon. Bar fishing for Chinook was impressive during the last few weeks, but many of those fish have now moved into the Harrison River. Some anglers are still out there bar fishing and doing well for Coho and the odd Chinook. The Chum run seems to be down so far, but we should see more fish in the Harrison area by late October.
Harrison River Sturgeon and Salmon
The Harrison River has been fishing well for sturgeon, with some nice fish being caught throughout the river, from Harrison Lake all the way down to the confluence with the Fraser River. Coho and Chum fishing has been slow so far, but that should change soon. I spent two hours casting Gibbs Spoons at the confluence a few days ago, and out of 10 boats, we only saw 1 Coho and a few chum salmon caught. I would expect a fresh push of salmon to enter the river with each high tide, so just keep an eye on this area, as it will heat up very soon. If you are after Coho, keep reading down the report.
Vedder River Salmon Fishing
The Vedder River is producing some great Coho fishing from the confluence right up to boundary. Yesterday morning there was a good school of Coho moving up the canal, with some larger hatchery and wild fish mixed together. These fish will move up the river fairly quickly, so the lower Peach Road area should produce some great results over the next few days. An 11-lb hatchery Coho was caught by Mission resident Dale Adams on Sunday morning while fishing the low tide near the Vedder Canal. There were also some larger wild fish caught and released in the same area.
Some of the best fall fishing is yet to come; the Vedder, Chehalis, Dewdney, Harrison and Fraser Rivers will all see a large migration of salmon over the next week to 10 days. Sturgeon fishing will only improve until we reach our next peak season, which is October 15 to November 15.

9-foot Sturgeon caught and released by Paul Hunt while fishing with STS Guide Vic Carrao in early October.
Upcoming Event: The Harrison Sturgeon Challenge is taking place from November 4 to 6, 2015 at Harrison Hot Springs Resort and Spa. The Challenge will be limited to 15 boats fishing the Harrison River and a portion of the Fraser River.
Prizes Include:
Longest Fish, 2nd Longest Fish, Most Combined CM (team): CASH
Smallest Fish: Adoption of your fish
Largest Fish Daily: $200 Settler Bucks each day
And more!
Packages Include: 3 days of guided fishing, 4 nights accommodation at the Harrison Hot Springs Resort and Spa, buffet breakfasts each morning, lunches on the boat each day, tournament entry, and activities. The event kicks off with a welcome reception at the resort for all participants. Pick up your swag bags and meet your fellow anglers. Fishing starts at 8am sharp the following morning, followed by daily prize announcements each evening. Join us for the awards banquet dinner on the final evening.
Tight lines, and we will see you on the water.
Vic Carrao
STS Guiding Service
Website: http://www.guidebc.com
Phone: 604-671-FISH (3474)
If you are looking for a salmon or sturgeon-fishing adventure, please feel free to call or email us. Looking for an event for your company? Give us a call, as we still have some great dates available.