In our fast-paced modern lifestyle, we often forget to take time for the simple things that nurture our being. Dappled sunlight through the forest canopy. The sound of the river pooling over its rocky bed. Sun soaked days and singing, community, nature, connection, and re-wilding. Re-learning ancient ways of being or simply sitting by the fire under a starry summer sky.
At Firemaker, life alters for a moment. Or, more accurately, a week. Celebrating its twentieth year, Firemaker occurs every summer and is an intentional experience that focuses on gathering as a community to share traditional skills and to keep alive a way of living that is connected to the land and to each other. At Firemaker we step into a rhythm that is just a little different than our everyday experience.
Nestled in the forest on the outskirts of the Comox Valley and alongside the Browns River, Firemaker participants return year after year for a week of re-connection. Re-connection to our earth, to traditional ways of being and learning, re-connection to ourselves, to new friends and to old friends, and to a village where each individual is held and honoured in their own right as a part of the whole.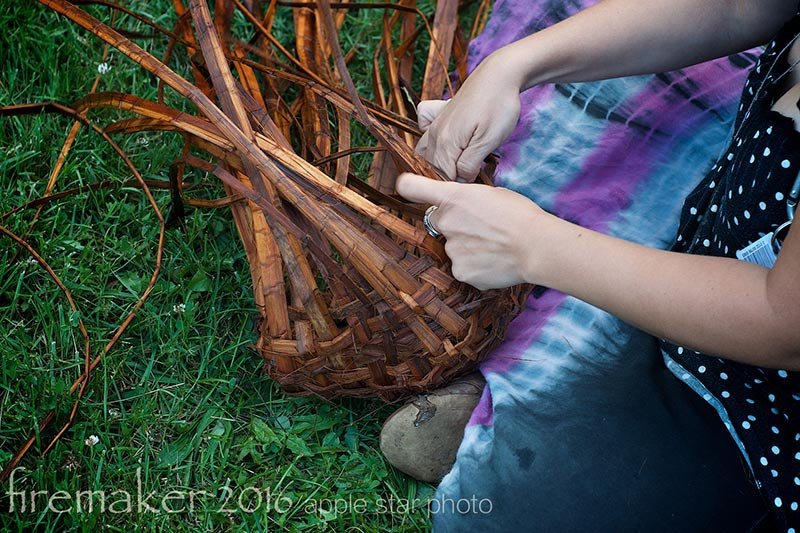 Participants come to enjoy a week full of workshops and evenings that host community events such as storytelling and an all time favourite – the (optional) Firemaker Talent Show. People also come to relax, to unplug from the whirlwind of modern day life and to rest in the simplicity of nature. There is time for connection with others, but there is also time for solitude. All meals are provided and prepared with nature as our inspiration, and dietary restrictions or allergies are accommodated wherever possible. Participants stay onsite in tents. There is some space for vehicle camping for those who prefer.
The week's workshops includes traditional skills such as basket weaving, carving, cordage from natural fibres, bow-drill fire making, and hide tanning. Alternatively you could learn about plant identification, tincture making, edible and medicinal mushrooms found on site, and herbal antidotes. Still other options include animal tracking, bird language, how to stalk and remain unseen, archery, animal traps, building shelters, and how to dig, prep, and enjoy a pit cook! Looking for something less hands on? Some workshops focus on meditation, parenting, rites of passage, or how to navigate modern society. A variety of workshops is offered every day, and not just to adults! Children's workshops, youth workshops, or community workshops are also present. Perhaps you'd like to experience the Elemental Spa, where participants enjoy natural clay "mud baths" before parading through the site en route to the river. Be warned: laughter and joy are common side effects of this workshop.
A large part of the gathering is the intention to show respect for the planet we live on, and the individuals with whom we are sharing this experience. Ceremony is included in the week for this purpose, however all ceremony is non-denominational and completely optional.
If you are new to Firemaker or have been coming for 20 years, you are always welcome. This is a place for children, youth, adults, and Elders to come. It is a place where the old ways are not forgotten and where nature, in all its wildness, may once again become one of our greatest teachers.
This year Firemaker will be happening from July 12th – 18th, 2020.
Earlybird registration is from March 1st – 31st, 2020.
Registration is open until June 15th, 2020.
For more information visit their website www.Firemaker.org or email info@firemaker.org.
If you are interested in becoming an instructor at Firemaker visit: firemaker.org/instructor.html
May you walk in Beauty.
Article by Kendra Quince
Photography by Apple Star Photo