Aleah Johnson is the owner of the Wild Thyme Coffee House on Saturna Island, and she seeks community support to ensure that her popular and innovative business venture can live on and expand into the future. Aleah operates her coffee house inside a vintage double-decker bus on Saturna Island, proudly serving this enthusiastic Gulf Island community.
The Bus is a 1963 Leyland Lowlander, the last in a group of ten built for southern transport in the UK. The vehicle was a transport bus from 1963 to 1976, when it was selected to get re-branded as the mascot and team transport bus for the 1978 commonwealth games in Edmonton.
The bus has had a colourful life between then and now, including a stint as an ice cream parlour in the Shuswap during the 1980s. Aleah found it in a tow yard in Surrey, BC in April, 2012, and bought it as soon as she saw it. The next day it was towed to Saturna Island, where it fitted on the Mayne Queen ferry with less than 2 inches of height clearance! After five and a half months of gutting, sanding, painting, fabricating, innovation and many, many work parties, Aleah opened for business next to the government wharf in Lyall Harbour in September, 2012.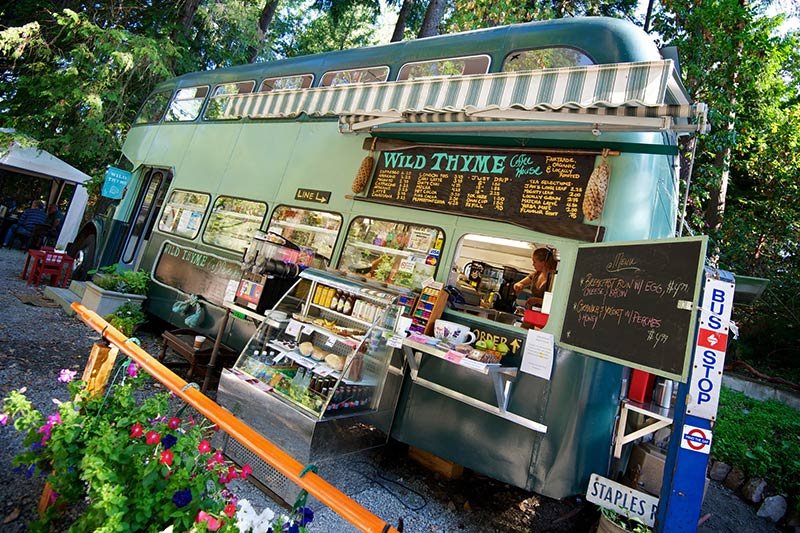 The entire community got involved in the process. Thirty two letters of support were submitted to the Islands Trust in support of approving temporary commercial zoning, and 217 signatures on a petition for the same approval, which is not bad considering that Saturna Island has a population of only 300! Over 30 people showed up at the painting party, and the same crowd for the window-installation party – they had to have 42 windows custom made in tempered glass.
So many people in the Saturna Island community wanted this to happen. At the time, Aleah was one of only nine people in their twenties living on Saturna. Wild Thyme Coffee House is now one of the very few stable year-round employers on the island, contributing to their community by donating to the Lions Club, the women's club, and offering free graphic design work and print media design to any business on Saturna Island. They also mentor SEEC students and offer a discount to members of the volunteer firefighting and ambulance emergency response departments.
Wild Thyme Coffee House has been operating in the black since March of 2014, and are pleased that the business has proven itself to be viable despite serving such a small population. They enjoy great support from their customer base comprising their local community, returning visitors, and a growing loyal boating community.
After Aleah's landlords announced plans to sell the property, Aleah started a Crowdfunding Campaign to help raise enough money for a down payment on the land. She wants to continue serving her community and has an expansion plan that will create a few more jobs on the island and provide some much-needed tourist accommodation as well.
Links:
Wild Thyme Coffee House Crowdfunding page: Double Decker Bus Expansion
Wild Thyme Coffee House Website: www.wildthymecoffeehouse.com
Press:
Gulf Islands Driftwood, March 25, 2015: Saturna cafe raising funds
Times Colonist, March 19, 2015: Amid ferry angst, fare hikes may be capped
Shaw TV South Vancouver Island, January 22, 2015: Wild Thyme Cafe on Shaw TV (Video)
Times Colonist, September 13, 2014: On Saturna Island, dreams come with coffee